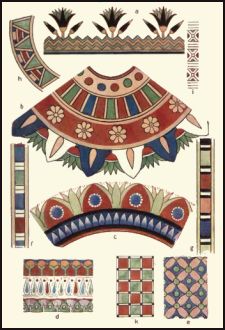 Ancient Costume - Egyptian Dress Costume Plates

Part 5 - Ornamental Patterns and Egyptian Collars
"
Styles of Egyptian robe with free pattern guides were discussed on the detailed pages of Egyptian Costumes. However, decorative elements were mostly confined to the removable collars on garments and other removable accessories such as headwear, girdles (striking wrap sash belts) and deep arm cuffs. But if you need a wearable costume you have to have basic body covering too, so check out my other Egyptian pages.
To complete your Egyptian costume add a collar, typical jewellery and
eye make up.
To be fair there are plenty of King Tut collars available at fancy dress party costume outlets online. But part of the fun of going to an Egyptian fancy dress event is making your own Egyptian inspired costume and most importantly achieving something that fits you proportion wise rather than being made as one size fits all."
Fashion-Era